Hair removal for unwanted body hairs using the Asian Hair Removal Technique, known as, Threading.
iLuvo Beauty offer expert, professional, fully certified, licensed, and insured threading hair removal treatments at our Wandsworth Beauty Salon located in Ram Quarter, Wandsworth, London, UK. Threading hair removal is an excellent alternative to shaving and waxing for small, delicate, sensitive, and confined areas where it is difficult to reach, and where accuracy is essential to ensure sculpting of hair growth to a specific shape and size. Threading Hair Removal originated in Asia and is perfect treatment for the shaping of Eyebrows for example.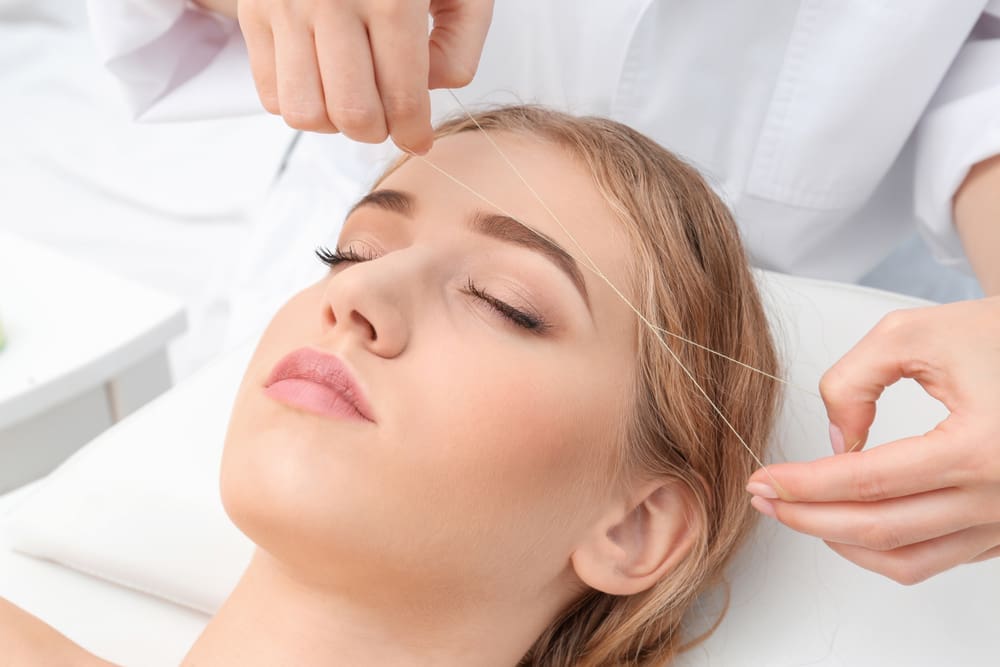 Threading Hair Removal
Threading is a hair removal technique that originated in the Middle East and South Asia. It involves using a thin thread to remove unwanted hair from the face, including the eyebrows, upper lip, and chin. Threading has several benefits, including:
Precise hair removal: Threading allows for precise hair removal, making it an ideal technique for shaping eyebrows or removing unwanted facial hair.
Gentle on the skin: Threading is a gentle hair removal method that is well-suited for individuals with sensitive skin. Unlike waxing or other hair removal methods, threading does not involve the use of harsh chemicals or hot wax that can irritate the skin.
Long-lasting results: Threading removes hair from the root, which means that the results can last up to four weeks before regrowth occurs.
No risk of burns or cuts: Unlike hair removal methods that involve hot wax or sharp blades, threading does not pose a risk of burns, cuts, or other injuries.
Safe for all skin types: Threading is a safe hair removal method for all skin types, including individuals with acne-prone or sensitive skin.
Cost-effective: Threading is an affordable hair removal method that does not require expensive equipment or products.
Overall, threading is a safe, effective, and gentle hair removal technique that can provide long-lasting results. It is important to have threading done by a trained professional to ensure the best results and minimize the risk of injury or irritation. Here at iLuvo Beauty, we offer professional, expert, certified, licensed, and fully insured, threading treatments for removal of unwanted body hairs for various regions of the body. Threading is generally restricted to small treatment areas where accuracy is key, to ensure the removal of hair is restricted and confined to a specific area, especially when sculpting hairs to grow in a specific pattern. You'll often see threading being used for Eyebrow Sculpting,
Monobrow/Unibrow Hair Removal
,
Chin Hair Removal
, Lip Hair Removal, Cheek Hair Removal, and
Sideburns Hair Removal
.
It is rare and unadvisable to use threading to remove hairs from larger areas of the body, such as, Underarms/Armpits, Full Legs, Full Arms, Full Back, etc. Larger areas are best treated using Hair Removal techniques and treatments such as Waxing, IPL, Laser, etc.
Booking