Laser Skin Acne Treatment
Leading Laser Acne Treatment is the best acne treatment solution by far, effectively reducing and clearing acne and acne scars. There are two options of treatment depending on the scar, be it, box, rolling or icepick.
Option One is Ablative Resurfacing and is offered to clients who seek improvements in just one session. This can be to remove blackheads from the face, remove acne scarring, or reduce hormonal acne spots, sunspots, ageing spots, and general acne issues.
Option Two is Non-ablative Resurfacing and is a milder treatment requiring several sessions. This has no risk of infection and less downtime for you.
One of our expert, laser clinicians will welcome you and ensure you receive the best possible advice, treatment, and results. Customer satisfaction and service are at the core of everything we do and we strive to ensure all our customers leave with 100% satisfaction.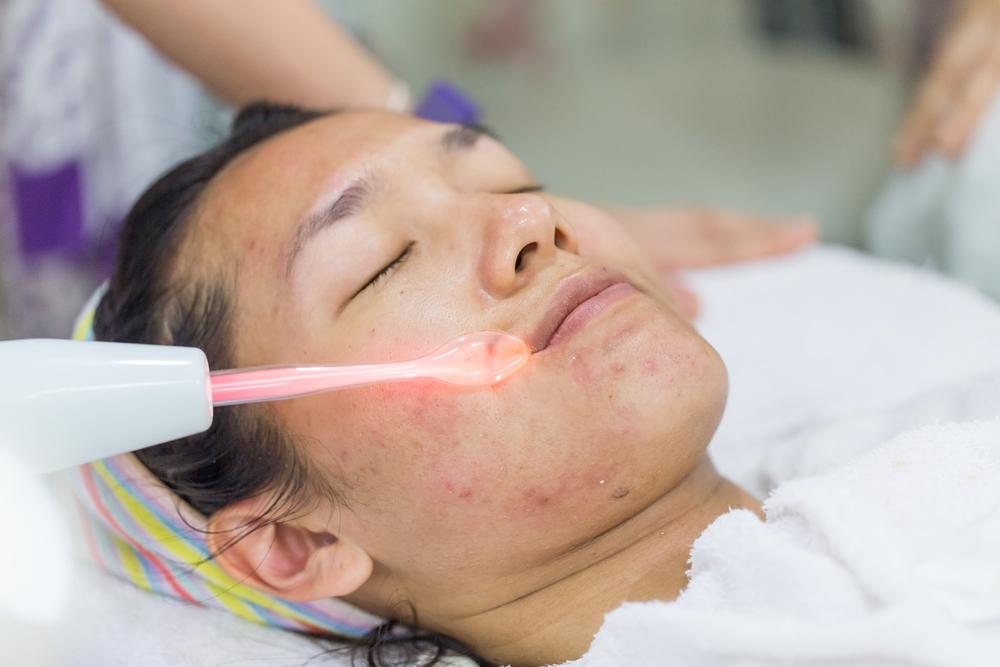 Guidelines
Stop taking aspirin or blood-thinning supplements at least two weeks prior to attending your appointment with us.
Abstain from using skin care products containing Retinol for at least two weeks prior to attending your appointment with us.
Remove any make-up prior to arriving if you are having treatment for acne on the facial areas.
Wear clothing that is appropriate and easy to remove for treatment of more private areas and difficult-to-reach areas such as the buttocks.
iLuvo Beauty recommends that customers follow these guidelines after attending a session with us as your skin will be sensitive to touch:
Applying sun cream regularly to avoid any sun damage to the skin and to help block UV light for at least 72 hours post-treatment.
Avoid sun tanning or sun exposure for at least 6-8 weeks after treatment.
Applying special toners and moisturisers regularly to help achieve optimal results and help your skin to rejuvenate after treatment.
Regular washing to keep the treatment area clean and free of dirt, germs, and bugs to avoid any skin infection. Your treatment area will be more susceptible to infection after laser treatment, so extra care is advised.
Avoid wearing any makeup foundation for at least one week after treatment to give your skin a chance to heal and rejuvenate. Allow the skin pores to breathe and not get clogged up with foundation and other makeup products.
Laser Acne Treatment for Back and Shoulders
1 x Laser Acne Treatment for Back and Shoulders
£180
One session of Laser Acne Treatment for Back and Shoulders.
3 x Laser Acne Treatment for Back and Shoulders
£490
Three sessions of Laser Acne Treatment for Back and Shoulders
6 x Laser Acne Treatment for Back and Shoulders
£920
Six sessions of Laser Acne Treatment for Back and Shoulders
Laser Acne Treatment for Chest
1 x Laser Acne Treatment for Chest
£150
One session of Laser Acne Treatment for Chest
3 x Laser Acne Treatment for Chest
£410
Three sessions of Laser Acne Treatment for Chest
6 x Laser Acne Treatment for Chest
£770
Six sessions of Laser Acne Treatment for Chest
Laser Acne Treatment for Face
1 x Laser Acne Treatment for Face
£130
One session of Laser Acne Treatment for Face
3 x Laser Acne Treatment for Face
£360
Three sessions of Laser Acne Treatment for Face
6 x Laser Acne Treatment for Face
£670
Six sessions of Laser Acne Treatment for Face