Overview
Skin rejuvenation treatments are a popular choice in a beauty regime and this state-of-the-art Carbon Peeling treatment is proving favourable. London Laser Carbon Peeling with the Lumenis M22TM multi-functional laser platform, improves the appearance of the skin and keeps you looking youthful and healthy.
A non-toxic, natural carbon cream is applied to the surface of the skin and allowed to dry. This creates a resemblance to a mud mask and has a dark grey-brown colouring and rich texture. The carbon quickly absorbs oil, impurities, and dead skin cells from deep within pores and pulls toxins to the surface and creates an even Plato for the laser energy.
Without destroying the sub-dermal tissue, the laser is applied to the mask and is instantly attracted to the dark colour of the carbon. This, in turn, heats up your skin and tiny, pain-free, explosions happen within the pores which clears out dead skin cells and helps your natural healing process kick-start and boost collagen production for lasting firmness.
At the surface the laser energy destroys carbon particles in the mask which eliminates the absorbed oil, dead skin and toxins, immediately refreshing and exfoliating the skin by deep cleaning and shrinking pores.
Laser Carbon Peeling has the following benefits and delivers results:
Shrinking enlarged pores
Restoring the skin's natural ph
Eliminating inflammation
Skin becomes silky and the skin tone lightens
Pigmented spots disappear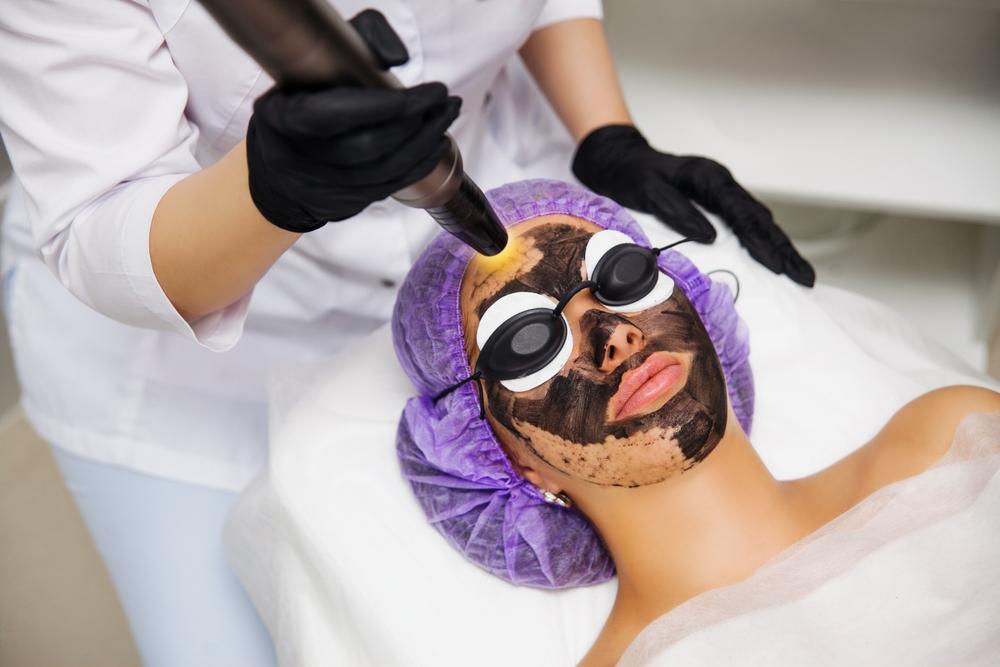 Guidelines
Carbon Peeling is for anyone suffering from:
Acne
Blackheads
Enlarged pores
Oily skin
Dull and uneven skin tones
Fine lines
Wrinkles
Laser Carbon Peeling for Full Face Price List
1 x Laser Carbon Peeling for Full Face
£150
One session of Laser Carbon Peeling for Full Face
3 x Laser Carbon Peeling for Full Face
£410
Three sessions of Laser Carbon Peeling for Full Face
6 x Laser Carbon Peeling for Full Face
£770
Six sessions of Laser Carbon Peeling for Full Face